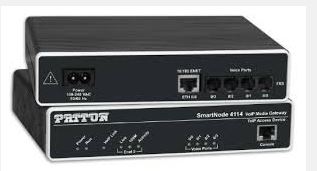 Patton SN4114/JO/EUI SmartNode 4 FXO VoIP Gateway
1×10/100baseT, H.323 and SIP, External UI Power

Advanced Local Call Switching—Virtual interfaces and routing tables provide industry leading flexibility in call handling programming. Local call switching, soft fallback to alternative routes. Simultaneously connects to multiple SIP services/IP PBXs.
Complete SIP and T.38 support—Supports the complete range of industry standard VoIP: SIP, H.323, T.38 fax, fax and modem handling, DTMF relay. Codecs G.729, G.723, etc.
Easy Management & Provisioning—Web-based management, SNMP, command line interface. Automated mass provisioning for efficient large-scale deployments.
Outstanding Interoperability—Proven integration for voice and T.38 fax with 3CX®, Asterisk™, PingTel™ and other leading IP PBX systems and soft switch vendors.
Supported by SmartNode™ Redirection Service: A free service enabling zero-touch mass deployments for Service Providers and Distributors with auto-provisioning servers. 
If you like the price, you can order right over the phone.