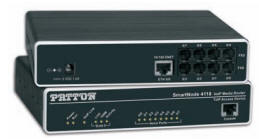 The Patton SmartNode SN4116 comes in two different models.  One models has 4 FXS ports with 2 FXO ports.  The other model has 6 FXS ports.
SN4116/4JS2JO/EUI Quad FXS, Dual FXO
SN4116/JS/EUI 6 Port FXS
Advanced Local Call Switching—Virtual interfaces and routing tables provide industry leading flexibility in call handling programming. Local call switching, soft fallback to alternative routes. Simultaneously connects to multiple SIP services/IP PBXs.
Complete SIP and T.38 support—Supports the complete range of industry standard VoIP: SIP, H.323, T.38 fax, fax and modem handling, DTMF relay. Codecs G.729, G.723, etc.
Easy Management & Provisioning—Web-based management, SNMP, command line interface. Automated mass provisioning for efficient large-scale deployments.
Outstanding Interoperability—Proven integration for voice and T.38 fax with 3CX®, Asterisk™, PingTel™ and other leading IP PBX systems and soft switch vendors.
Supported by SmartNode™ Redirection Service: A free service enabling zero-touch mass deployments for Service Providers and Distributors with auto-provisioning servers. 

We stock these hugely popular 3CX compatible VoIP Gateways at discount pricing for end users and resellers. 
For end-user or reseller pricing, call us at 610-399-3911