The Patton SmartNode™ 4416 VoIP Gateway-Router provides 16 FXS or FXO interfaces to connect phones, fax or PSTN trunk lines to your IP-based communications (IP PBX, UC systems and SIP Trunks).  Here are the SN4416 Model numbers:
SN4416/JO/UI
SN4416/JS/48
SN4416/JS/UI
12, 16, 24 or 32 FXS—Simultaneous voice or fax calls on all ports. Advanced local call switching.
Full SIP and T.38 support—Supports the complete range of industry standard VoIP: SIP, H.323, T.38 fax, fax and modem bypass, DTMF relay. Codecs G.729, G.723 etc.
Secure Toll-Quality VoIP—DownStreamQoS and Voice-over-VPN with adaptive traffic management and shaping for maximum voice quality and secure voice communication.
Complete Access Routing—Two 10/100 Ethernet ports with auto MDI-X. Access router with NAT, Firewall, PPPoE, DHCP, DynDNS, multiple VLANs & VPN with IPsec*
Outstanding Interoperability—Interoperable for voice and T.38 fax with leading SIP service providers, soft-switch vendors and Asterisk™ IP-PBX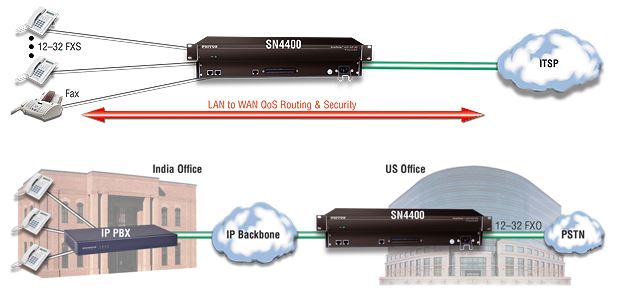 We have been a stocking distributor for Patton Electronics for decades; hence we offer the best pricing available for all Patton SmartNodes.
Call us at 610-399-3911