The Patton Electronics SmartNode™ 4432 VoIP Gateway-Router provides 16 FXS or FXO interfaces to connect phones, fax or PSTN trunk lines to your IP-based communications (IP PBX, UC systems and SIP Trunks). Here are the SN4432 Model numbers:
SN4432/JO/UI
SN4432/JS/48
SN4432/JS/UI
These SN4432 gateway routers, like all the SN4400 series gateway routers, interface analog phone equipment to the IP network. As routers, they prioritize voice over data. All the Patton the SmartNode 4432 units feature dual 10/100 Full-Duplex Auto-Sensing Auto-MDX Ethernet. They can be configured and managed through the web interface, CLI, Telnet, Console and SNMP.
12, 16, 24 or 32 FXS—Simultaneous voice or fax calls on all ports. Advanced local call switching.
Full SIP and T.38 support—Supports the complete range of industry standard VoIP: SIP, H.323, T.38 fax, fax and modem bypass, DTMF relay. Codecs G.729, G.723 etc.
Secure Toll-Quality VoIP—DownStreamQoS and Voice-over-VPN with adaptive traffic management and shaping for maximum voice quality and secure voice communication.
Complete Access Routing—Two 10/100 Ethernet ports with auto MDI-X. Access router with NAT, Firewall, PPPoE, DHCP, DynDNS, multiple VLANs & VPN with IPsec*
Outstanding Interoperability—Interoperable for voice and T.38 fax with leading SIP service providers, soft-switch vendors and Asterisk™ IP-PBX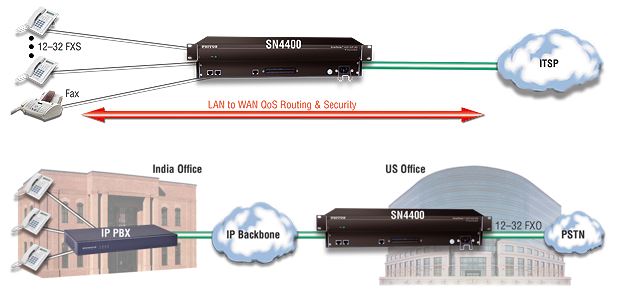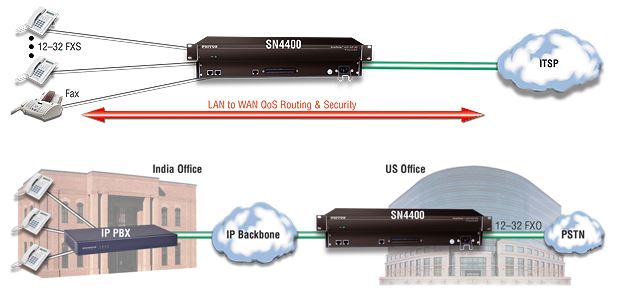 Like every SmartNode™, the SN4400 supports every industry-standard CODEC to deliver toll-quality voice on every call. The Unified Communications Agent™ (UCA) provides any-to-any multi-path switching (simultaneous SIP, H.323, ISDN, and POTS calls with routing and conversion between TDM/PSTN and IP/Ethernet networks—plus T.38 and SuperG3 FAX). VoIP-over-VPN with voice encryption provides secure voice and data via IPsec with AES/DES strong encryption and automated keying via Internet Key Exchange (IKE). In addition, advanced call-router functionality includes least-cost call routing with flexible dialed-number plan support.
The SmartNode survivability suite combines PSTN fallback, SIP Registrar and IP-link redundancy to ensure business continuity in case the IP network fails. Patton's DownStreamQoS™ delivers the advantage of clear, uninterrupted voice-and-data communication. In addition, SmartNode delivers a smooth transition to VoIP with strong number portability support accepting incoming calls from the PSTN throughout the VoIP service provider's number porting process.
Preserve investments in legacy phone equipment while taking the next steps toward unified communications with the SN4400 VoIP Gateway-Router. Providing 12 to 32 FXS or FXO interfaces and two 10/100/1000 Ethernet, the SN4400 with built-in IP Router delivers secure, prioritized unified communications.