Patton Electronics SmartNode SN4170 T1 E1 PRI VoIP Gateway
SN4170/1E15V/EUI
SN4170/1E15VHP/EUI
SN4170/1E30V/EUI
SN4170/1E30VHP/EUI
Transport your enterprise phone system to the world of IP Telephony with the SN4170 T1/E1/PRI Gateway. Supports up to 30 concurrent G.711/ G.722 voice/fax calls with secure HTTPS, stateful firewall, and TLS/SRTP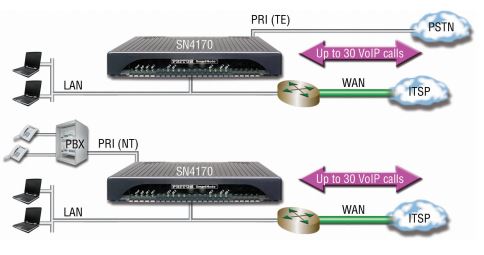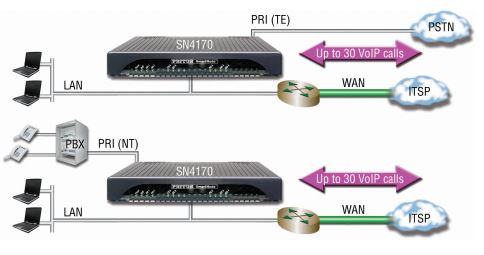 The SmartNode 4170 series is the next-generation ISDN T1/E1 model of the proven market-leading SmartNode VoIP product family. It fits perfectly the requirements of small and medium-sized enterprises looking for cost-effective ways to bridge PBX systems on multiple sites or connect them to a public Internet telephony service.
SmartNode's unique high-precision clock*** delivers first-line IP telephony service in demanding ISDN and DECT environments, along with reliable FAX and modem performance. Providing one T1/E1, one Gigabit Ethernet port, and up to 30 VoIP calls, the SN4970 delivers a reliable, cost-effective solution for the Enterprise.
Like every Trinity SmartNode, the SN4170 Series models are state-of-the-art VoIP gateways that include the built-in WEB Wizard for fast and easy configuration. You can build your own WEB interface using the WEB Wizard functionalities.
The SmartNode 4170 is also the solution for service providers and network integrators looking for a VoIP product that matches up to ISDN standards interms of features and quality.
SmartNode products provide seamless network integration, continuous trouble-free operation and cost effective deployment to protect your investments for the future. Preserve investments in legacy phone equipment while taking the next steps toward unified communications with the SN4170 VoIP Gateway.