The Patton SmartNode 4528 is an analog VoIP Router with 8 FXS ports or a combination of 4 FXS and 4 FXO ports.
SN4528/4JS4JO/EUI
SN4528/JS/EUI
8 analog ports—Compact, reliable stand-alone VoIP gateway with different port options. Supports simultaneous voice or fax calls on all ports. (note: Patton does not carry an 8-FXO unit at the present time)
Toll-Quality VoIP—Advanced traffic management and shaping, combined with Patton's patent-pending DownStream QoS™ enforce uninterrupted toll-quality voice over best-effort networks.
Advanced Local Call Switching—Virtual interfaces and routing tables provide industry leading flexibility in call handling programming. Local call switching, soft fallback to alternative routes. Simultaneously connects to multiple SIP services/IP PBXs.
Complete SIP and T.38 support—Supports the complete range of industry standard VoIP: SIP, H.323, T.38 fax, fax and modem handling, DTMF relay. Codecs G.729, G.723, and so on.
Easy Management & Provisioning—Web-based management, SNMP, command line interface. Automated mass provisioning for efficient large-scale deployments.
Outstanding Interoperability—Proven integration for voice and T.38 fax with leading IP PBX systems and soft switch vendors.
These SN4528 gateway routers, like all the SN4520 series models, interface analog phone equipment to the IP network.  As routers, they prioritize voice over data.  All the Patton the SmartNode 4520 units feature dual 10/100 Full-Duplex Auto-Sensing Auto-MDX Ethernet.  They can be configured and managed through the web interface, CLI, Telnet, Console and SNMP.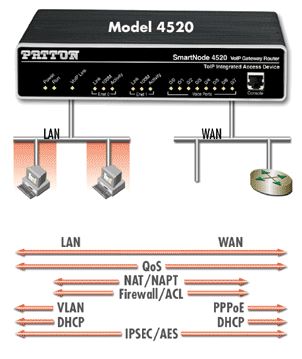 By integrating an enterprise router with a full-featured VoIP Gateway the SmartNode offers QoS voice, wire-speed traffic shaping, and complete network access. With dual 10/100 Ethernet ports, the SmartNode connects your hosts to your LAN with VLAN tagging, DHCP server/client, and Firewall/ACL services. Use PPPoE and IPSEC VPN with DES, 3DES, and AES encryption and bring your Voice and Data to the WAN through a single and secure network connection.
We have been a stocking distributor for Patton Electronics for decades; hence we offer the best pricing available for all Patton SmartNodes.
Call us at 610-399-3911