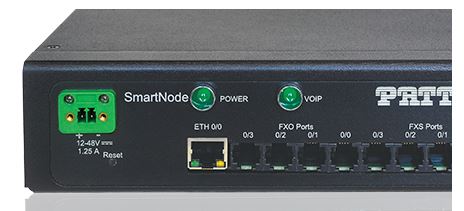 As a first-in-class solution, Patton's new ruggedized SN4140E Industrial VoIP Gateway series is ideal for delivering Voice-over-IP telephony in outdoor or environmentally exposed environments where heating and cooling cannot be controlled.
The unit can be vehicle-mounted and is suitable for military applications. European military organizations have already purchased the SN4140E for operational testing.
Ruggedized protection you need –

Operating Temperature: -40 to +70 °C
Humidity: 85% condensing.
Conformal coating option available if 100% humidity is required.
Vibration: IEC 60068-2-6, 7.5 mm, 5–8 Hz, 2g, 11 ms
Shock: IEC 60068-2-27, 15 g, 11 ms
SN4141E/2JS2V/DC SmartNode Industrial VoIP Gateway, 2FXS, 2 VoIP Calls, or 2 SIP-SIP calls (SIP b2b UA) upgradeable (max. 200), Optional SIP-TLS/SRTP; Transcoding (max. 4 calls), 1x Gig Ethernet, Internal 12-48 VDC

SN4141E/4JS4JO8V/DC
SN4141E/4JS4V/DC
SN4141E/8JS8V/DC

Up to 8 FXS and/or FXO ports –
Compact, reliable stand-alone VoIP gateway with a variety of port options. Supports simultaneous voice or fax calls on all ports.
Advanced Local Call Switching
Virtual interfaces and routing tables provide industry leading flexibility in call handling programming.
Local call switching, soft fallback to alternative routes. Simultaneously connects to multiple SIP services/IP PBXs.

Complete SIP and T.38 support
Supports the complete range of industry standard VoIP: SIP, H.323, T.38 fax, fax and modem handling, DTMF relay. Codecs G.729, G.723, etc.

Easy Management & Provisioning – Web-based management, SNMP, command line interface. Automated mass provisioning for efficient large-scale deployments.

Outstanding Interoperability – Proven integration for voice and T.38 fax with 3CX, Asterisk, PingTel and other leading IP PBX systems and softswitch vendors.
Industrial VoIP is a new frontier. All-IP means voice terminals everywhere need to be adapted to VoIP and we are leading the charge.